The ONC has shared the newly proposed interoperability standards advisory to the public.  They are requesting comments & suggestions.
Draft 2016 Interoperability Standards Advisory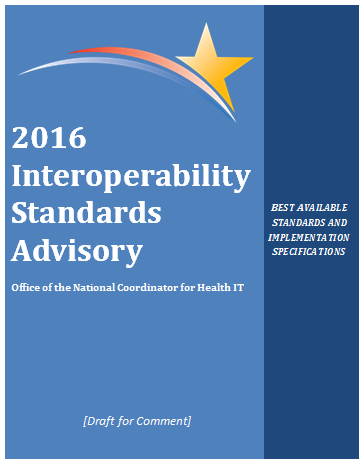 ONC is accepting public comments on a draft of the 2016 Interoperability Standards Advisory (2016 Advisory). The comment period will be open for 45 days and will end at 5 p.m. on Friday, November 6, 2015.  Public comments will be used to update this draft in order to publish a final 2016 Advisory by the end of 2015.
The draft 2016 Advisory represents feedback we received from public comment on the 2015 Interoperability Standards Advisory as well as many of the recommendations from the HIT Standards Committee.
We need your input to improve this draft 2016 Advisory.  Please submit your input during this public comment period.  You may place your input into the text field that is provided in the comments form on this web page, upload a copy of the advisory with your in-line changes made directly in the advisory and comments to the input form, or upload a letter that outlines your comments and edits.  Please note that anything submitted as part of this process can be made public by ONC.
* Persons using assistive technology may not be able to fully access information in this file. For assistance, contact ONC at onc.request@hhs.gov
Articles on Web about this Interoperability Standards proposal:
ONC Unveils Draft 2016 Interoperability Standards Advisory